Sunneva Ása Weisshappel


Málverkin mín eru unnin í ferli. Strigi sem er saumaður saman og hvert lag meðhöndlað á ólíkan máta. Saman mynda lögin verk sem er marglaga, hrátt og tímatengt.
Striginn verður eins konar gjörningur og það sem gerist inn í stúdeoinu hefur ekki fastmótaðan upphafspunkt og er skapað í flæði. Ég ríf jafnt og klippi niður striga sem ég síðan sauma saman og vinn undir, innan í og ofaná málverkið. Ég nota í þessu ferli vax, pigmentu, textíl, olíu, kol, náttúrleg efni og afurði sem verða á vegi mínu í lífi og starfi.

Í málverkinu nota ég einnig afgangs efnivið úr eldri verkum, s.s. gjörningum eða innsetningum, tímatengum verkum sem öðlast nýtt líf í málverkinu og með því verður til innri tími og saga innan í verkinu sjálfu.
Viðfangsefni mín í málverkinu eru efni lifandi stunda og ytra og innra ástand manneskjunnar. Ég vinn með samruna hugans og líkama og nota lífið sem rannsóknarvettvang. Fyrir mér er málverkið tvívítt hugarástand sem ég rannsaka með því að skapa andstöðu, togstreytu, sameiningu og/eða glundroða með þeim vinnuaðferðum sem ég hef tileinkað mér. Málverkin mín eru eins og manneskjan sem er alls konar, flókin, falleg, ljót, marglaga, full af andstæðum, mistökum, tilfinningum og mótsögnum.
"My paintings are born from a process. A canvas that is sewn together and each layer treated in different ways. Together, the layers form a piece that is multifaceted, raw and time-related. The canvas becomes kind of a performance and what happens in the studio does not have a fixed starting point and is created in natural flow. I tear and cut down the canvas and then sew together and work under, inside and on top of the painting. I use wax in this process, pigment, textiles, oils, coal, natural materials and products that get from everyday life and work."

"In the painting I also use leftover material from older works, e.g. performances or installations, time-related works that gain new life in the painting and thus creates an inner time and history within the work itself. My subjects in painting are the subjects of living moments and the external and internal state of the human being. I work with the fusion of mind and body and use life as a research platform. For me the painting is a two-dimensional state of mind that I explore by creating opposition, tension, integration and / or chaos with the working methods I have adopted. My paintings are like the humans; complex, beautiful, ugly, multifaceted, full of opposites, mistakes, feelings and contradictions."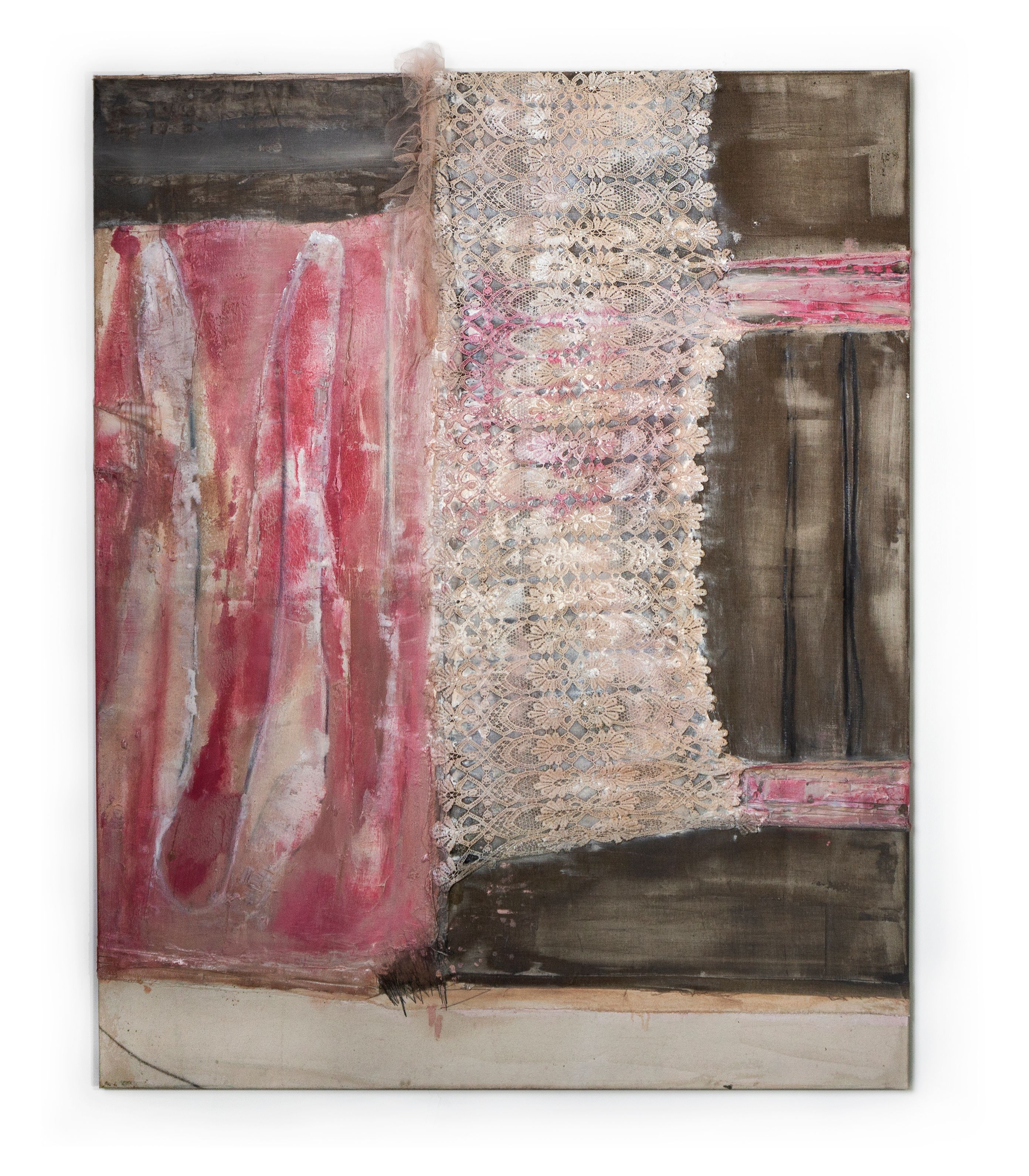 Farvegir ástarinnar
150x121cm
wax, oil, pigment, charcoal, textile and wild herbs, on cotton and linen canvas.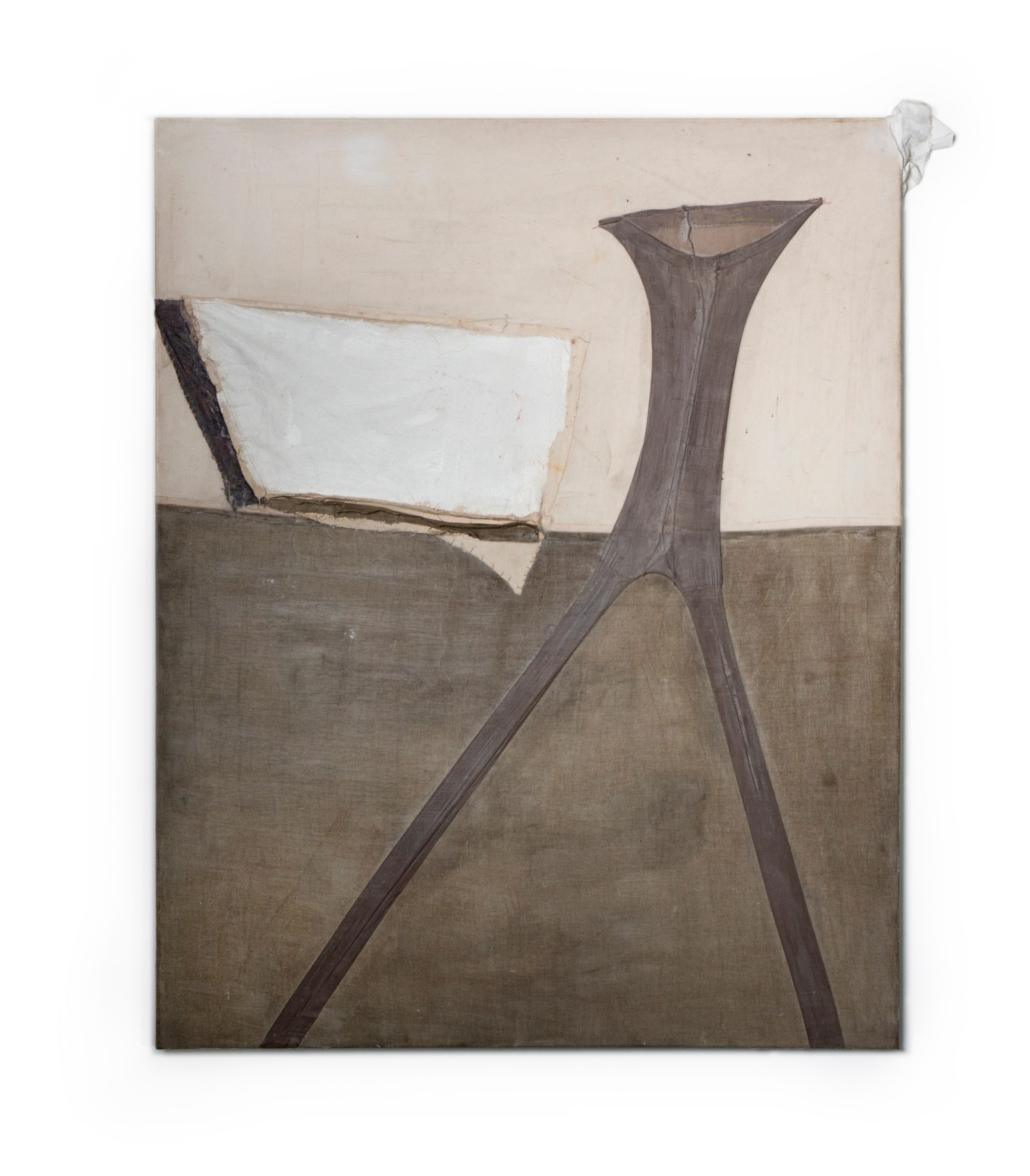 Umskipti
150x121cm
wax, oil, pigment, charcoal, textil and nylon tights, on cotton and linen canvas.

Leyndar tilhneygingar no2
2x - 60x50cm
wax, oil, pigment, charcoal, poloroid, textile, on linen canvas.


Opnun
165x83x17cm
Polaroid, vax, textile, pigment, oil
.Umbreyting
150x121cm
wax, oil, pigment, charcoal and textile on cotton and linen canvas.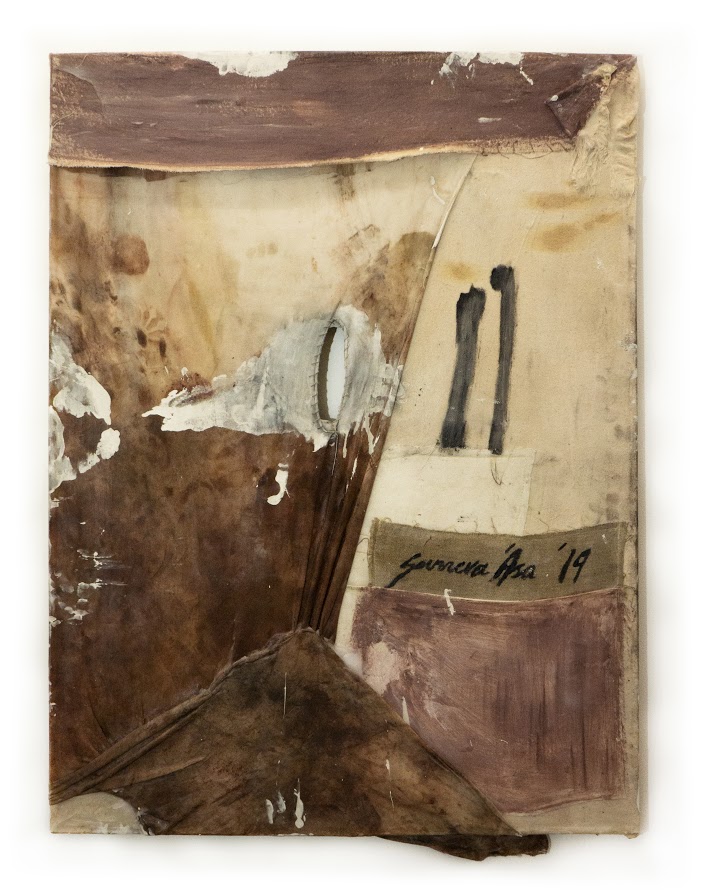 Sjálfsskoðun
80x60cm
14x poloroids, vax, charcoal, oil, pigment, textile, berries and dirt on cotton and linen canvas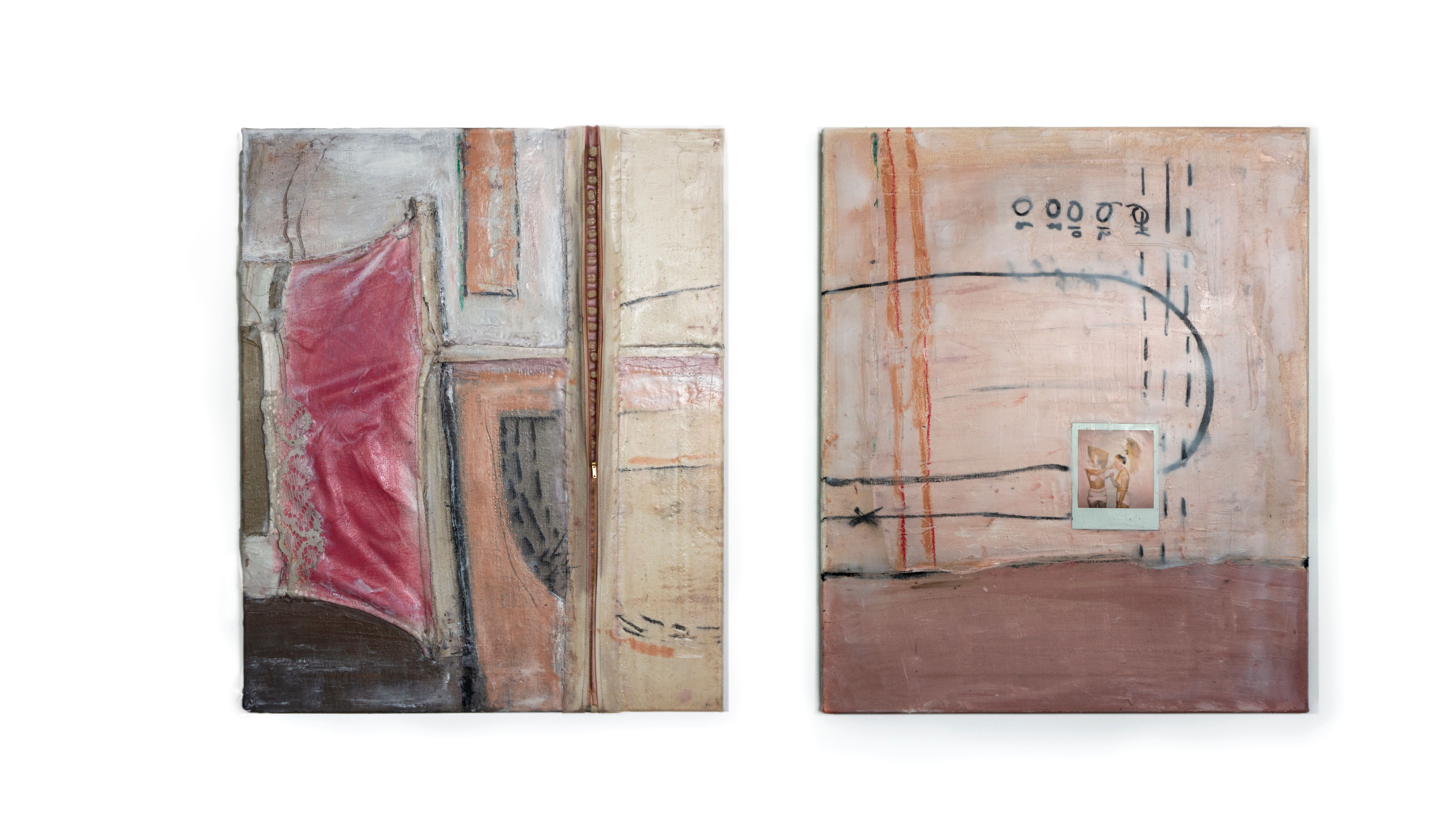 Leyndar tilhneygingar no3
2x - 60x50cm
wax, oil, pigment, charcoal, poloroid, zipper,
plastic teeth, textile, on linen canvas
Aftenging
102x73cm
Wax, stockings, 8x poloroid
Speglun
Sculpture - Mixed media
Undirlög
06.2—28.2. 2021